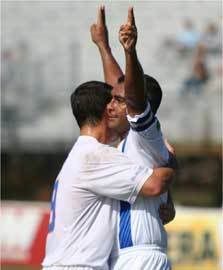 Adelaide United has
confirmed
the guest signing of Romário de Souza Faria -- the player Guus Hiddink considers the greatest he has ever coached -- who will play a series of matches in Australia between October and December. Four of these will be for Adelaide, who have lined up a trio of home games and one away match to showcase the aging superstar's abilities. Melbourne, New Zealand and Newcastle are the opposition for the home matches, while Central Coast are the fortunate away side. (Fortunate for the Gosford fans at least, maybe not so much for Tony Vidmar and his associates in the Mariners defence.) If Central Coast stadium doesn't pack out for the match on November 25, perhaps it never will.
Romário's other matches will include a couple of friendlies for his current team, first year franchise
Miami FC
, who are also travelling out to Australia. Miami and Adelaide will duke it out in a friendly match in October, which will give us a first indication of how the A-League stacks up against American competition, in this case the top flight of the second-tier United Soccer League. Zinho, another member of Brazil's 1994 World Cup winning squad, is also currently playing for Miami FC. Zinho still has it at 38 -- he led the just-finished domestic league in assists. Miami also has a few current internationals on their books: Jamaican forward Sean Fraser, Haitian defenders Stephane Guillaume and Jamil Jean-Jacques, and Guatemalan midfielder Mario Rodriguez. One of their young starlets seems to be US defender John Paul Rodrigues.
Interestingly enough, Miami played a friendly against John Aloisi's Deportivo Alaves in early-August. Romario scored in Miami's 2-1 defeat. Aloisi did not.
Without checking to make sure, I assume Romário's appearance will mark the first time a former FIFA World Player of the Year has played for a domestic club in Australia.
One thing is certain: Romário will not score his 1,000th goal for Adelaide. His cherished home team Vasco da Gama would absolutely blow their fuse if he achieved the feat for anyone but them. He still needs quite a few more goals in any case, seemingly having something like a mere 977 at the moment. Surely there's a countdown for this somewhere on the web?
Finally, what a great honour for Fernando Rech (as well as Melbourne's Brazilians, I guess) to play alongside such a heroic figure in Brazilian football history. Securing such a lasting reward is a nice bit of vindication for coming all the way to Australia to earn a living.
I'm off now, to figure out which match to attend! Gosford or Adelaide? Versus Victory ("Adrian Leijer injures world's second greatest goal scorer of all time!") or the Jets ("Paul Okon and Romário today compared dining notes as they lumbered around the Newcastle box in search of a touch of the ball -- oh, but what a touch!")? Decisons, decisions . . . .