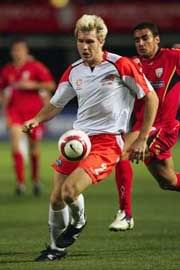 Queensland Roar's Karl Dodd has become the first A-League player to
walk away from the domestic game
in favour of a European club competition.
Romanian second-tier Divizia B Serie II side Universitatea Craiova has secured the services of the defender on a four and a half year contract. Dodd will join fellow Australians Daniel Clitnovici and Josh Mitchell at the club, which currently lies top of the table after conceding just 5 goals in 15 matches and looks set for a move back into the top flight Divizia A next year.
Readers of Romanian may be interested the Universitatea Craiova's

announcement
of the transfer on their official web site. Meanwhile, professional football in Romania can be tracked on the brilliant web site
Romanian Soccer
.
Dodd and Roar came to a mutual contract termination agreement, implying that Roar have not benefited from a transfer fee. Earlier in the week, it was announced that Roar had signed 20-year old striker Reinaldo Elias De Costa from Brazil and
released right-sided defender Todd Gava
. Now it seems Gava will be reinstated, with Dodd making way for a
possible
new signing among three options: Reinaldo, ex-NSL forward Con Boutsianis or Stephen Weah, cousin of superstar George Weah, who has been playing in Indonesia. Roar has been exceptional at generating a publicity storm around the new players they've drafted into the team (the Korean duo that was infamously once a trio, Osvaldo Carro, Chad Gibson and to a lesser extent Spase Dilevski), but they're still finding it as tough as anyone when it comes to making an impression on the park where it counts.
It was interesting to hear also this week that hardly utilised American forward Alejandro Salazar has likewise
agreed to a mutual termination agreement
with Sydney FC ... six weeks ago! What this means for Sydney is a little unclear at the moment. They have been obliged to draft in three new players for the Club World Championship (midfielders Dustin Wells and U-20 international Ruben Zadkovich along with goalkeeper Mitchell Blowes) but it remains to be seen if any of those three have, or will be, signed in the long-term.
The rub? Even in our sleepy little league at the bottom of the world, club's have been quite busy indeed in the closing days before the end of Novemeber transfer deadline.